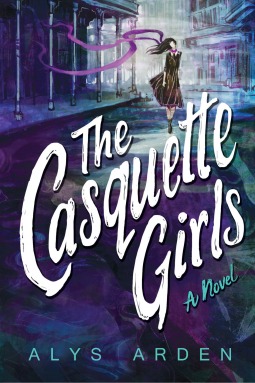 Title: The Casquette Girls
Author: Alys Arden
Genre: Paranormal | Fantasy | YA
Series: The Casquette Girls #1
Publisher: Amazon Publishing
Publication date (of revised edition): 17 November 2015
Ebook: 635 pages
Source: An ARC copy from publisher via Netgalley. *This doesn't affect my review*
Synopsis:  Seven girls tied by time.
Five powers that bind.
One curse to lock the horror away.
One attic to keep the monsters at bay.
**
After the storm of the century rips apart New Orleans, sixteen-year-old Adele Le Moyne wants nothing more than her now silent city to return to normal. But with home resembling a war zone, a parish-wide curfew, and mysterious new faces lurking in the abandoned French Quarter, normal needs a new definition.
As the city murder rate soars, Adele finds herself tangled in a web of magic that weaves back to her own ancestors. Caught in a hurricane of myths and monsters, who can she trust when everyone has a secret and keeping them can mean life or death? Unless . . . you're immortal.
Rating: ✯✯✯✯✯

Initially, I was hesitant to read this book as I thought The Casquette Girls would have the same elements as all other paranormal YA books. However, I decided to put away my doubts and start reading this.And I don't regret doing so. The Casquette Girls is going to take the YA crowd by storm.
I was very impressed with the characters. They were all well developed and had their own unique personality. I like the MC, Adele. She's smart and strong, but she still has her own flaws. She's not portrayed as perfect, and that's why she's awesome. The secondary characters are almost as good. They don't have as much depth as Adele.which is understandable, because they're secondary characters. However I feel it would be better if the secondary characters have more depth.
The plot is AMAZING; it is something I've never seen before. There are no vampires who goes around killing humans and drinking their blood for fun, or vampires who walk under the sun while sparkling (looking at you, Twilight!). The Casquette Girls do have some tropes mixed in it, but the author plays around well with them. One thing that I really like about the plot is that I couldn't predict what's going to happen next. I've lost count of the number of times I said, "Holy. Shit. I did NOT see that coming". Arden seriously knows how to pull the rugs off your feet when you least expect it. She got some skills!
The writing is damn near perfection. If it weren't for the occasional mistakes that pop up every few chapters, I would have declare Arden's writing skills as PERFECT. The narrative isn't confusing. The writing literally sucks you in right from the first page, and it will keep you on the edge of your seats until the very end.
Speaking of the ending, I say it's one of the most EPIC endings I've ever read. I never expected that sort of ending (I had thought that the ending would be about everyone dying). I usually don't like happily-ever-afters, but Arden executed it so well, I LOVE, LOVE, LOVE it! THAT is how you end a story.
The only issue I've with this book is the dialogues. I was quite annoyed with the fact that there's lots of French mixed into the dialogues. I've never learned French before so half the time, I don't understand whatever Adele was talking about. That's not what I find annoying, though. I personally feel that the French is unnecessary, though it adds a nice touch to the story. The mix of French and English in the dialogues distracted me from my reading, hence partially ruining my reading experience. Other than that, The Casquette Girls is a great read.
Correction, it's not great. It's PHENOMENAL!
*Please excuse me for any Grammar, spelling mistakes. I was very tired when I wrote this review (who wouldn't be after a looong day at work?).*