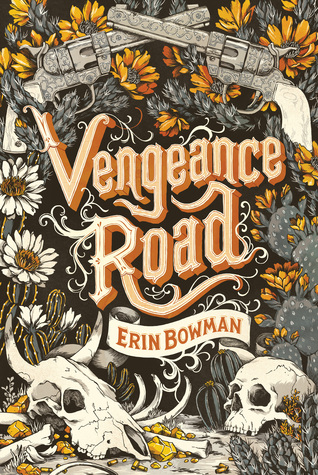 Title: Vengeance Road
Author: Erin Bowman
Genre: Western | YA
Series: Not series; Stand Alone
Publisher: HMH Books for Young Readers
Publication Date: 1 September 2015
Paperback: 336 pages
Source: Bought                            
Synopsis: Revenge is worth its weight in gold.
When her father is murdered for a journal revealing the location of a hidden gold mine, eighteen-year-old Kate Thompson disguises herself as a boy and takes to the gritty plains looking for answers—and justice. What she finds are untrustworthy strangers, endless dust and heat, and a surprising band of allies, among them a young Apache girl and a pair of stubborn brothers who refuse to quit riding in her shadow. But as Kate gets closer to the secrets about her family, a startling truth becomes clear: some men will stop at nothing to get their hands on gold, and Kate's quest for revenge may prove fatal.
Rating: ✯✯✯✯½
"See you in hell, mister."
And that's where I'm going, sure as the sun will rise, 'cus I feel nothing. No remorse. No guilt. Not even a sliver of doubt. He deserved it, and I'd do it again.
The main character, Kate, is one of the most awesome heroines I've read about since Katniss Everdeen or even Hermione Granger. Kate is a rare heroine in the YA community. Unlike other vengeful characters, her desire for vengeance felt real. She's not afraid to kill and feels no remorse after murdering someone. She's anti-social, temperamental, and at times a bitch, but I love her.
The lead male character, Jesse, is one of characters who I simultaneously hate and love with all my heart. He is a total jerk to Kate; insulted her, said she's an ass when he's one himself. Also, Jesse wanted to get his dirty little hands on the gold so much that he turned against Kate. In my honest opinion Jesse is the weakest character in Vengeance Road. He would NOT stop spouting nonsense. What I find particularly annoying about Jesse is the fact that he has an emotional range the size of a teaspoon. BUT, whatever he did, he did it with a good reason. I could understand why he wanted the gold so badly- his family is poor and he wanted to help them.
I won't go into much detail about Will, Jesse's brother, as I don't see much character development with Will. He isn't as flat as cardboard, which is a relief because the characters in books I've read recently are flat and dull. But he doesn't have as much depth as Kate. Which is understandable as he's a secondary character. I would like him to have more character development, though.
As for the main antagonist, Rose, I feel he lacks in depth. It's like he's a robot or something. I don't loathe him like how I loathe Voldemort from Harry Potter; I don't hate him like how I hate President Snow from The Hunger Games . Rose is missing the thing that awesome villains have: personalities/traits that make him human. Rose doesn't have fears, desires or goals okay, he has a goal, which is probably to get his hands on the gold. But his goal isn't clear enough. To me, anyway.
The romance between Kate and Jesse is one of the things I love about Vengeance Road. The romance between the two main characters build up slowly, which is something I rarely see in the YA community these days. Kate and Jesse started off as distant companions, which developed into something more.
Vengeance road is pretty much character-driven. The story mostly revolve around Kate and her desire to avenge her father's death. Which brings me to my next point: there wasn't much world building in the story. I'm okay with that, but I would prefer if there was more depth in the world building of the story. The ending surprised me the most. I wasn't expecting a Happily Ever After at all, as most revenge stories I've read tend to end in tragedy. Still, it was nicely written and fit the story. What I don't exactly like about the ending is that it felt a little rushed, like the author was trying to finish the story before the deadline or something.
Overall, I was satisfied with Vengeance Road, though I didn't quite like the lack of depth in world building. Vengeance Road is addictive and quite different from what's currently in the YA community. Highly recommended!